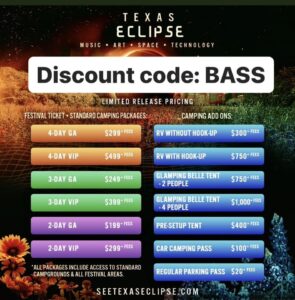 So, as we have learned there is another eclipse event going on at the Reveille Peak Ranch which is in the middle of 2 of our locations.  You can check out there site by CLICKING HERE.
For an RV spot with power they are charging $1250 for their Early Bird special.  Bear in mind folks this is a music festival centered on college age kids, drinking, and partying.  It just HAPPENS to be during an eclipse.  Our 2024 Texas Eclipse Family Funfest is focused on family, science, and astronomy.  Plus, we're hosting a midway carnival.  Right now our early bird special spots are only $347!!  ALOT cheaper than this other right nearby event.

PLEASE NOTE: THE GRAPHIC POSTED IS NOT OF OUR PRICES ARE FESTIVALS THEY ARE FOR ANOTHER ONE FOCUS ON COLLEGE KIDS AND DRINKING.