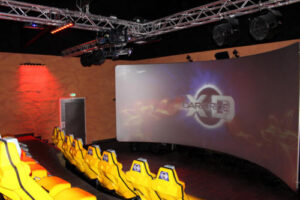 We have very pleased to announce one of our premiere attractions, a tasty 4 row 8 seat Triotech Dark Ride XD Theater.  This is an interactive shootem game experience in XD-3D-VR with moving seats and everything.  These XD movie theaters are extremely popular right now and ever growing.  Especially because new games are always coming out.  We listed just a few of these interactive team style games.
Pre-Order tickets are on sale now for only $2.00 for single passes, $10 for a 5 ride pass, and $30 for an unlimited ride pass, so hurry and pre-order yours today.  Pre-order pricing ends October 1st, 2023!

Movies/Games
Below is just a small sampling of the many amazing games our XD Theater will have.  You'll be able to choose your choice of game upon playing with your group.  We will have scheduled times for open selection as well as set games playing during busy times.  If you want to learn more about Triotech and the entertainment and interactive rides experiences they create, CLICK HERE.
Alien Asteroid
Trailer Alien Asteroid - XD Dark Ride Movie from Triotech on Vimeo.
You are part of the space patrol fleet that protects planet Earth. Suddenly a mysterious asteroid field appears. It is your job to investigate and prevent it from getting closer. What could be lurking in the shadow… A routine mission becomes a struggle to neutralize the enemy and protect our planet.
Forbidden Mine
Trailer Forbidden Mine - XD Dark Ride Movie from Triotech on Vimeo.
An ancient mine taken over by some evil force that claimed it as its lair for himself and his minions. The old miner wants our help to recover his mine. He says there is danger. Ghosts, ghouls, mommies, and even worse? Ah! They are just exaggerated stories from the old miner, right?
Road Fighters
Trailer Road Fighters - XD Dark Ride Movie from Triotech on Vimeo.
2156…Year of destruction
Pollution, famine and wars brought civilisation to an end : a new humanity is born, rebooted.
Survivors affected by high level of radiations have been spare and are now fighting for their lives . They rely on machinery to attack ; but they're fighting towards the same goal : finding food.
Don't let them be your end!
Carnival
XD Dark Ride adventure - CARNIVAL - Trailer from Triotech on Vimeo.
A disturbed clown out for revenge traps us in his sinister nightmare.
Once trapped in a decrepit amusement park, we get tossed, pulled and toyed with like a mouse caught by a particularly villainous cat.
Giant heads and creepy automatons are just a few of the weird creations this clown has manifested from his mind. As we get dropped, dragged and swung from one twisted corner of his mind to the other, we discover we're not the first to pass through this nightmare and we won't be the last.
Powerless over our fate and frightened by every move, we're forced to confront the reality of this nightmare we may never wake from.
More on Triotech's XD Dark Ride: https://trio-tech.com/products/xd-dark-ride/
Gigamon
Trailer Gigamon - XD Dark Ride Movie from Triotech on Vimeo.
The city is under siege. Embark on a wild chase while fighting reptilian monsters. Gigamon, an epic adventure and an adrenaline rush. Collect points and stop Gigamon before it destroys the city! A stroll in the city you will remember for a long time!
Zombies
Trailer Zombies - XD Dark Ride Movie from Triotech on Vimeo.
You just graduated from the police academy. Your first night of patrol. It's a stormy night. Just need to investigate this traffic accident… You will need to be lightning fast and think on your feet if you want to make it through your first night of work!