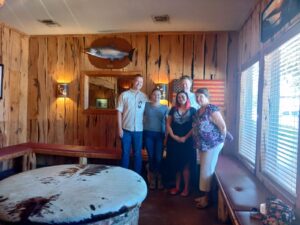 We are very excited to get started planning on our 2024 Texas Eclipse Family Funfest!  Most of our Happy Times Events Directors met today in person with Cindi Reynolds.  She does a lot of event coordination work for the Bertram, TX area festivals, events, and celebrations.  We met last week at the River City Grill in Marble Falls.  Very good place to eat by the way, and right on the river with outdoor eating areas.
We discussed everything from attractions, accommodations, vendor topics and more.  She advised us thru the last weeks worth of website updates to trim up information, make it easier to understand and read, and to get the information both vendors and guests need in order to get the information they are hunting for.
Mrs. Cindi has graciously agreed to be a consultant (so its perfectly clear, she is not working for us, nor specifically or personally endorsing anything, she is only providing guidance for us in order to help make our event the best it can be) for us in order to secure a team or 3 to 5 highly experienced event coordinators/planners to ensure that our event goes off without a hitch and its one of the most fun and inventive events seen since the Bluebonnet Festival!  We are hoping more may develop from this very good partnership, but for now, she's focusing on just helping us build our event planning specialists team and really making sure that everything for our event is rock solid, follows all laws and stays above board with all our vendors and contractors involved in setting everything up at our various locations.
We also got our official Texas Secretary of State Certificate of Formation and our Federal EIN form all posted on our "Get Help" page for folks for tax purposes for our vendors so be sure to check that out if you need it for your tax records.