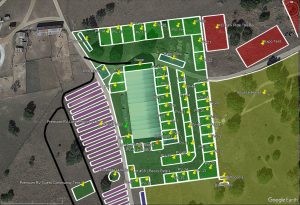 After tireless hours of adjustments, fine tuning, and getting everything set just the way we wanted it our premium vendor spots all around our huge 100′ x 400′ arena with the 45′ high vaulted ceilings are now open and ready for booking.
Lots 1-13 are directly around the arena and include power.  Printer Doods and K.O. BBQ already each have a lot so we have 11 left.
Lots 14 – 22 are directly to the north of the arena and include power.  There are 9 of these lots left right now.
Lots 23 – 47 are not powered and Pecos Pete's Natural Tea & Soda Company already has one of these lots and we have so we have 24 left
At the north east tip of our premium vendor area is where we're putting our XD Dark Ride Interactive VR Theater & the Go Stargazing, Ltd Expo tent
We decided to move the stage from the south side of the arena to the north side.
Use the shortcut links below if you wanna book one of our vendor spaces.