Why are we looking for an investor?
Quite simple really, the guest bookings we'll have no issues with.  We want to ensure we have the best event in the Hill Country though so we have laid everything out to take a few food trucks around to about every festival we can find, including our current application we have turned into the Texas State Fair.
Not only will we be selling food, but unlike the average food truck, we'll also be selling event tickets off the food truck at everyone of those events, and then having our people hand scout potential vendors for our coming April 8, 2024 Total Solar Eclipse Event.
We also want to throw a few more dollars at adverting, one more run should get this self sustaining.  We put roughly $1800 into key strategic advertising, and want to do one more run.
How much are we expected to generate?
We have several properties, our main property is 110 acres and we have it divided into 1100 spaces with 20 acres of reserve back up space and a 40 acre general parking lot.  If you just simply look around google and facebook at EVERY other Texas Eclipse event going on, they are all doing it all wrong.  They are setting static flat rate prices at $2000 - $5000 per spot for simple "boondock" campsites.  Such as RV's, motorcoaches, and travel trailers.  We are starting at our lots by taking 5% of our capacity and setting them at "Early Bird Specials" at the rate you see in the image to the right, $1,000.  Other premium spaces are going for $2,000 for the 4 day stay, just a patch of ground only.  We're doing another 15% of our capacity at normal flat rates, but twice the price as the early bird special, once the first 20% of spaces are booked, the last 80% will all go up for auction only, having potential guests bid on every site available.
Oregon did this for 2017 at a state park for a fundraiser on 30 simple campsites and it was to help spruce up their little state park and they pulled $60,000 on average for their auctioned sites as you can see from the image in red below.  Just as they had a "cause" as do we.  We will be donating 10% of profits to the #fusethecommunity initiative in order to help bring low income families with children in school free or low cost rural internet since Burnet County was denied for the federal broadband dollars by the FCC based upon faulty data provided by a local Spicewood, TX citizen and it will be years before anything can even be done to correct it, and then at that point Burnet County will have to start all over again in the process.  These families need solid internet now, not in 5 years from now, so we intend to fix that.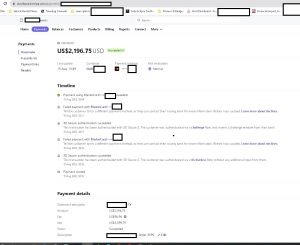 We have been looking for a food truck deal as well, and here are on the details on that, but we'd rather sell some equity.
How much are we looking for?
As this will be a one time event and the primary object is to ensure and enhance what we're already doing, we are seeking $50,000 - $100,000 in exchange for 2.5% to 5% equity stake in Happy Times Events, Ltd Co, which is hosting, organizing, and managing the Burnet County TX 2024 Eclipse Event.  We are collaborating with @GoStargazing , Ltd  and they will be handling all our astronomical related workshops and events thru the 4 day period.  They attended the Oregon 2017 Eclipse event and are directly consulting with our Event Director's team and providing invaluable first hand experience, knowledge, and foresight for us so we can prevent problems they see with this one.
The big thing that makes this eclipse different, is no one in the US truly understood the importance of being in the path of totality as there's never been a full on eclipse like that before.  And still HUNDREDS OF THOUSANDS of people invaded Oregon and other states in the 2017 path.  With this one, not only does John Doe know and is going to come, but he's for dang sure gonna talk his wife, his brothers, his aunts, and everyone else he knows along because they know now.  Just like the Oregon event, these are most likely minimum estimates and WAAAYY low.