Burnet TX Eclipse Festival
2024 Eclipse Info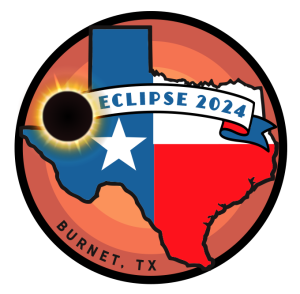 Event Location: Equrina Fields, Burnet County, TX - MAP
Event Starts: Friday, April 5th, 2024 @ 10am CDT
ECLIPSE STARTS AT 1:25PM CDT ON APRIL 8TH, 2024
Event Ends: Tuesday, April 9th, 2024 @ 10am CDT
All bookings include all 4 days, April 5th - April 9th, 2024 included in the price.
Bluebonnet Festival Extended Stays Checkout Time: Sunday, April 14th, 2024 @ 10am CDT
We are really encouraging all our guests to stay for the extra week so they are able to attend our local 41st Annual Bluebonnet Festival and check out all the local flavor that we have to offer!  We will post more details on this well before event day.
Email Newsletter Info Updates Signup: CLICK HERE
Once you pay for and book a space at our event you will receive an order confirmation by email.  This order number will be the number you present to any event staff members to authorize you to be on the property.
All badges, wristbands, and other pre-ordered merchandise will be shipped out the first week of February 2024.
All "Early Bird Specials" will end on Cyber Monday, November 27th, 2023 and higher rates will kick in.
Equria Fields Lot Numbers
------------------------------------------------
1 - 49 Premium Vendor Lots
50 - 99 Premium Attraction Lots
100 -199 Standard Vendlor Lots
200 - 248 Premium RV Lots
250 - 499 Primitive RV Lots
500 - 999 Tent & Vehicle Lots
10% of profits of all sales will be donated to Hyper Fusion for two different causes:
1) The Hyper Fusion #FuseTheCommunity Initiative to support their annual Burnet ISD Technology Scholarship Program. We believe in the importance of advancing the education of students who are the future of our community.
2) We will also be using the profits from this event to solve the lack of broadband speeds and reasonably priced internet all over Central Texas.
Hyper Fusion is the company providing all of our fiber, wifi, and fixed point wireless internet services for our vendors/merchants, and guests at the Burnet County Eclipse Event 2024.
Due to the extreme rarity of this event we have elected to set a portion of our bookings with eBay style auctions.  These auctions have no reserve and also have a "Buy It Now" button to secure that space with a flat rate immediate check out.  Using the "Buy it now" button guarantees the space is yours.  If the listing has received at least one bid, you must enter your bid, and highest bidder will win the space.  All auctions will close on Leap Day, Feb. 29th, 2024.
We offer several payment options depending on where you live.  Please refer below to see available payments options for your location.
United States

Credit/Debit Card processed by Stripe
Zelle, using your online banking system
Direct Bank Wire
United Kingdom, Ireland, and Australia
Credit/Debit Card processed by Stripe
Direct Bank Wire
Due to the extreme rarity of this event, our cancellation policies on our bookings are going to be EXTREMELY firm with very few exceptions made.
Vendors: Absolutely no refunds for vendor spaces will be given.  A big part of the draw is our creative selection of vendors so its extremely important our vendors do not cancel on us.
Guests: Any guest day pass, or overnight/multi day/entire event accommodation passes will be refundable until December 31st, 2023, however a 15% cancellation fee will apply.  Absolutely no refunds will be given after December 31st, 2024 for cancellations.
Academics: Due to the extreme costs involved with ensuring that high-grade internet is available for every academic, no cancellations will be accepted after October 31st, 2023 as we need to make sure the setup process for these locations has enough time to complete before the event.  A 15% cancellation fee will apply.
Premium Attraction Tickets: There will be no refunds given for any reason on pre-purchased premium attraction tickets.